Product Description
FeelinGirl Waist Trainer Corset 7 Steel Bones Abdominal Belt High Compression
Women's Waist Trainer Trimmer Belt 

Sauna Tank Top Vest with Adjustable Shaper Trainer Belt
High-Quality Neoprene
Enhance Workout During Cardio Weightlifting Running Walking
Quick Water Weight Loss
Maximize Calorie Burn 
BASIC INFORMATION: 
Color: Black Waist Trainer
Plus Size  Waist Shape 6 Sizes: S, M, L, XL, 2XL, 3XL
Unique Design: Waist Trimmer + adjustable waistband with velcro closure
High Compression, reduce waistline up to 3 sizes instantly
Boosts thermal activity and gently lifts underbust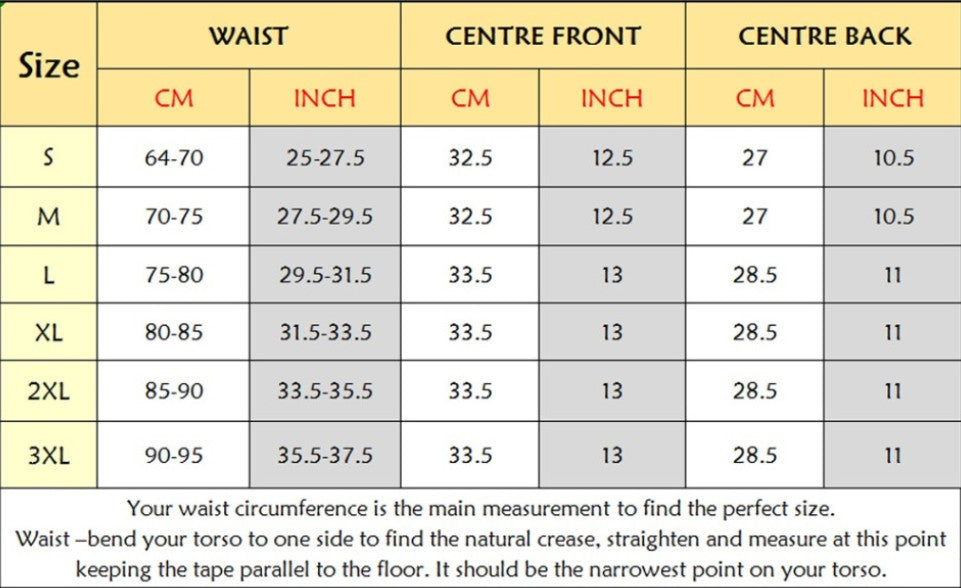 Rubber body-shaping garment, double belt, adjustable three-row buttons, waist seal and pocket, 7 steel products feature: maximum selling point: double belt design
1. The rubber itself remodeling, double belt design, can further strengthen the binding force, especially the following belt, abdominal closure effect is obvious;
2. Detailed selling points: small pockets can be placed keys, cards, etc., compact and convenient;
3. Detailed selling points: adjustable three-row buttons according to their own adjustment of tightness
4. Widening the area of the magic sticker and strengthening the area of the force, making the magic sticker more firmly adhere and the sense of closure stronger; 5, 7 steel frames to enhance the plastic effect

Product Material
1. Surface layer: Ribbed rubber has strong tensile force and resilience, and has excellent binding force for bulky.
2. Inside layer: cotton cloth and cotton cloth absorb moisture and perspire, skin-friendly and comfortable"
Use scenarios
1. Sports scenes in the gym, or daily running, you can wear this product for training, pull out a small waist;
2. Wear it on the inside and cover it with loose clothes on the outside.
We Think That You Might Also Like